Laver Cup is an international tennis tournament where two teams comprised of the world's best active tennis pros are pitted against each other for three days of singles and doubles play. The teams are "Europe" versus "The World".
Although one continent taking on the rest of the world sounds like it could be lopsided, Europe is an absolute powerhouse when it comes to tennis, so this makes for an extremely interesting competition. Was there anything more fun than watching a Federer-Nadal doubles team?
The Laver Cup began in 2017, and was founded by Roger Federer, his management company "Team8", former pro Jorge Paulo Lemann and Tennis Australia. It is, of course, named after the legendary tennis player Rod Laver.
Here is how it works in terms of scoring. Each competition day, three singles matches and one doubles match is played on the sleek black-painted tennis court. All matches are best of three tiebreak sets. On Day 1, each victory is worth 1 points for the team. On Day 2, each victory is worth 2 points for the team. Finally, on Day 3, each victory is worth 3 points for the team. The first team to win 13 points is the victor, and it is impossible to get that many points in the first two days, so unlike past team events, there is a 100 percent chance play will continue into a third and final day.
The inaugural event was played in 2017 at the O2 Arena in Prague, Czech Republic. Each year Laver Cup will be at a new venue. In 2019, Roger's hometown of Geneva will host the Laver Cup @ The Palexpo, September 20-22, 2019 and will feature both Federer and Nadal (more Fedal doubles, please!!!)
Laver Cup Schedule and Tickets
Ticket Options
Direct tickets www.ticketmaster.com or lavercup.com
Multi Session Tickets on sale in February. Individual tickets on sale at a later date.
Note: All of our ticket partners are legitimate, official, recommended ticket sellers and guaranteed to sell you official tennis tickets.
Chicago 2018 Information (Geneva 2019 Coming Soon)
Tickets for Laver Cup start at $180, but are few and far between. Most tickets available begin at $350 per seat.
The best seats are located in the Lower level, the 100 section. Personally, I would pick something right behind the baseline, which includes sections 105 through 107 and 116 through 118. The 200s, or the Club Level, is also a great place to watch tennis in extra comfort.
If you really want to go all out, Legends Club seating is available for $7,500 for all sessions. This is court-side seating with 5-star amenities including premium dining, drinks, and more. Just a few rows back from that is another impressive option, the Laver Club, with similar offerings, it costs $5,260 for full access to the three days of match play.
Tennis Ticket Coupon – $10 off $250+ code TLSPRING
Back to Top of Laver Cup
Hotels Near United Center in Chicago
Chicago is the third most populated city in the entire country, which means there lots to do and see, and a ton of great places to stay! Anything from reliable chain hotels to boutiques and high end accommodations to budget-friendly inns, you can find it in this city!
Recommended Hotels
Hotel Chicago West Loop – Don't want to deal with hailing a taxi, waiting for an Uber, taking The Loop, or a long walk? Then Hotel Chicago West Loop is the place for you! Just half a mile from the United Center, you can walk to the venue in under 10 minutes. This boutique hotel is situated in a historic brick building, but adorned with a modern interior design. It also features beautiful lights providing a surreal glow throughout the place.
Chicago Marriott at Medical District/UIC – If you want to be in walking distance of the United Center, but a boutique hotel isn't for you, or you want to keep racking up those Marriott Rewards points, you have a solid option here. Okay, fine, it is a 15-ish minute walk, but that is basically as close as you can get minute the aforementioned hotel.
Sheraton Grand Chicago – For a more traditional hotel experience, with all the classic amenities such as a pool, room service, and on-site restaurant, this is it. You also can't beat the location, situated right by the water and Navy Pier.
Luxury Hotels Laver Cup Chicago
Park Hyatt Chicago – Ready for 5 stars? Try the Park Hyatt Chicago. Enjoy breathtaking views of the city and harbor, relax in a deep soaking tub, and have a drink on their rooftop bar and restaurant. Rooms range from 500 square feet all the way up to full on apartment-style layouts.
The Gwen Hotel – Located in the popular Miraculous Mile district, this hotel offers high-end luxury with a robust style. It is contemporary with a 1930s aesthetic, featuring an Art Deco restaurant and lounge, and a stunning array of art.
Boutique Hotels Laver Cup Chicago
Virgin Hotels Chicago – This is the only Virgin brand hotel in the world! The famous and much admired Richard Branson is slowly breaking into the hotel business, and this is his flagship location. The man is a big time tennis enthusiast, so I'd have to imagine there will be quite a buzz in the hotel during Laver Cup. With stylish decor, worldly cocktails, unique food, and a full calendar of social events on in their Commons Club, this is the place to stay for a good time.
The Guesthouse Hotel – If being in the middle of the action sounds overwhelming, too loud, or just not what you're looking for, then try The Guesthouse Hotel in the Andersonville neighborhood of Chicago. The area has Swedish roots, with a museum and a few restaurants to try out if you're feeling Swede. The hotel itself is a luxury boutique, and has 1, 2, and 3 bedroom suites with full kitchens and living rooms.
Back to Top of Laver Cup
Venue Information
United Center
901 W Madison St
Chicago, IL
23,500 capacity
Laver Cup Seating Map United Center Chicago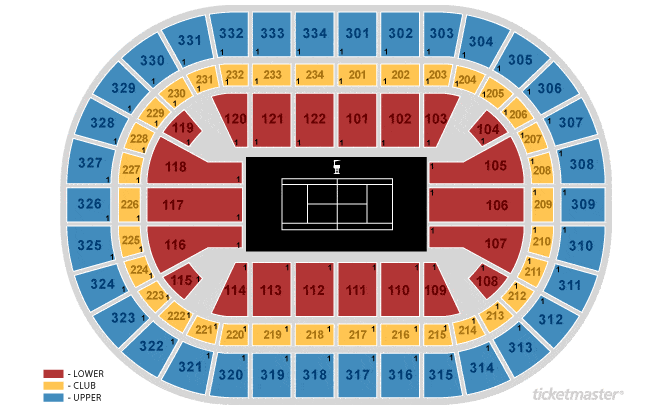 Back to Top of Laver Cup
Laver Cup Airport Transfer & Ground Transport
Back to Top of Laver Cup
Laver Cup Car Rentals
Back to Top of Laver Cup
Laver Cup Flight Info
FlightHub is our favorite site to search for cheap flights to anywhere. They have amazing customer service and their search results allow you to narrow down by dozens of options, including airline, # stops, etc, as well as sign up for fare alerts.
Sometimes, waiting a few days or a week may make a huge difference in airfare prices. Check the cheapest flight options at FlightHub.
Cheap Flight Tips:
1) Tuesdays and Wednesdays are generally the cheapest days to fly. Next lowest fares are usually Thursday and Saturday (which usually means you can catch quarter finals on Friday, and head out on Saturday)
2) If you've already searched multiple times on a site for airfare, trying going private or incognito on your browser, which may show newer and lower rates
Back to Top of Laver Cup
Chicago Popular Activities & Things to Do
Back to Top of Laver Cup
Prior Laver Cup Dates:
Chicago Sept 21-23, 2018
O2 Arena in Prague – 2017