The US Open, the last of the calendar Grand Slams, is held annually, starting on the last Monday in August, and lasting for two weeks into September, across Labor Day Weekend. As a tennis fanatic and native New Yorker, who has been over 40 times, I consider myself somewhat of a US Open pro attendee.
For the avid player who wants to watch and learn, there are new bleachers overlooking the practice courts to study the greats, as well as up close and personal FREE Qualifying Rounds for 4 days before the tournament. Whether you want free professional tennis, celebrity sightings, a Honey Deuce (signature drink), long and competitive matches or to introduce your kids to tennis at Arthur Ashe Kids Day, there is something for every player level, age and budget at the US Open.
US Open Schedule and Tickets
US Open Schedule and Tickets
The free US Open Qualifying Rounds (always a blast!), start the last Tuesday before the start of the US Open, ending on Friday of the same week (Aug 22-25, 2017), with Arthur Ashe Kids day that Saturday (Aug 26). The Qualifying Rounds are a great time to get the best shopping merchandise, check out the grounds, catch the greats practicing and collect autographs. The official US Open begins the following Monday (Aug 28). Many people will tell you to get a Grounds Pass, but the reason we don't offer them here is we feel an Armstrong or Grandstand ticket is almost always a better deal. Often, they are even cheaper than grounds passes and will let you into a stadium with an assigned seat to watch tennis.
Tennis Ticket Coupon – $10 off $350+ code 17SUMMERTL
Arthur Ashe Stadium Schedule
A reserved ticket to Arthur Ashe Stadium provides an assigned seat in the main stadium along with first-come, first-served access to Louis Armstrong Stadium, the Grandstand and all of the field courts. Bear in mind, Ashe is a HUGE stadium, which often surprises a first-timer, who has paid over $100 to sit in a Promenade 300 section seat and feels like they are watching tennis from an airplane.
Promenade seats (both lower rows A-O and upper rows P-Z) are HIGH UP and you will be watching the tennis on the large screens. This is fine if your goal is to check US Open off your bucket list and be a part of super-charged and excited atmosphere, but not enjoyable as a tennis fan who wants to be close to the action. If the latter is your goal, then spend your time and money on a Loge (200 or lower) seat, or go earlier in the tournament to watch the action in the new Grandstand (it's gorgeous!) or Louis Armstrong.
Louis Armstrong Stadium Schedule
A reserved ticket to Armstong provides an assigned seat in Louis Armstrong Stadium, along with first-come, first-served access to the Grandstand and all of the field courts. Louis Armstrong tickets are sold for the first nine days of the tournament.
2017 Notes: Louis Armstrong Stadium has been demolished (see USTA Grounds Map below – it is no longer there) and the USTA is erecting a temporary stadium by summer 2017 in Parking Lot B (right by the entrance). The temporary stadium will seat slightly more than 8,000 people.
Grandstand Stadium Schedule
A reserved ticket to the GrandStand provides an assigned seat in the Grandstand Stadium, along with first-come, first-served access to all of the field courts. Grandstand tickets are sold for the first eight days of the tournament.
Back to Top
US Open Tennis NYC
US Open Hotel Picks
The US Open takes place in Flushing, Queens NYC, about 30 minutes outside of Manhattan and within 20 minutes of both LGA and JFK. Where you stay will depend on whether you want to stay in Manhattan and explore (stay by Penn Station or Grand Central Terminal), are flying in just for the US Open (stay in Queens) or are driving and need to park your car (stay at a hotel with a free US Open shuttle bus).
Queens Hotels Near the US Open with Shuttles to the NTC
As the US Open is so close to LGA (LaGuardia Airport), the majority of nearby hotels are fairly no frills, but reasonably priced and most provide free transportation to the NTC. Great hotel choices:
Hotels Near Penn Station
Penn Station is about a 25 minute LIRR (Long Island Rail Road) ride to the NTC. The LIRR is slightly more expensive than the subway, but gets you there in about half the time. Staying near Penn Station also means next to Madison Square Garden and the Empire State Building, in the Garment District and within 20 minutes of anywhere in Manhattan. Choices include:
Love this hotel info? Make sure to read more about the Best US Tennis Open hotels.
Back to Top US Open Tennis NYC
Venue Information
USTA Billie Jean King National Tennis Center
Flushing Meadow – Corona Park, Flushing, NY 11368
Note: In 2017, Louis Armstrong Stadium will be in Parking Lot B and projected to be reconstructed by 2018.
Arthur Ashe Stadium Seating Map
During a day session, please consider a shaded section. It can be brutally hot and blinding, though the new roof does provide more shade than in the past. The shady sections at Ashe tend to be on the West and South sides since the sun starts on the South side (shining on the North side) and moves towards the West (shining on the East Side) of the stadium. Look at sections 301-328 Upper Promenade (Entrance wrapping around to 328) and then move down for those looking for Lower Promenade, Loge or better seats.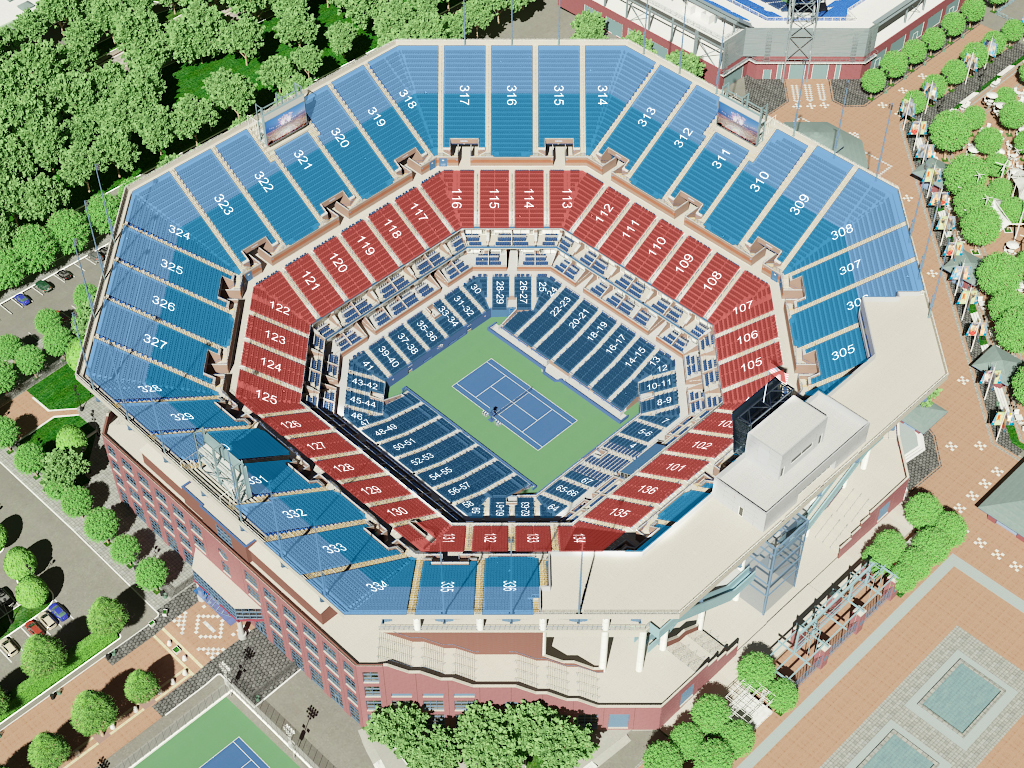 (c) http://usopen.io-media.com
Back to Top US Open Tennis NYC
US Open Transfer & Ground Transport
Back to Top US Open Tennis NYC
US Open Car Rentals
Back to Top US Open Tennis NYC
US Open Flight Info
FlightHub is our favorite site to search for cheap flights to anywhere. They have amazing customer service and their search results allow you to narrow down by dozens of options, including airline, # stops, etc, as well as sign up for fare alerts.
Sometimes, waiting a few days or a week may make a huge difference in airfare prices. Check the cheapest flight options at FlightHub.
Cheap Flight Tips:
1) Tuesdays and Wednesdays are generally the cheapest days to fly. Next lowest fares are usually Thursday and Saturday (which usually means you can catch quarter finals on Friday, and head out on Saturday)
2) If you've already searched multiple times on a site for airfare, trying going private or incognito on your browser, which may show newer and lower rates
Back to Top US Open Tennis NYC
NYC Popular Activities & Things to Do
For the latest and greatest NYC Events and Things to Do, please feel free to browse the NYC Insider Guide. Below are some highlights of our most popular tours and activities.
Back to Top US Open Tennis NYC