Although the Citi Open is not technically part of the US Open Series, what could be more American than tennis played in the nation's capital; Washington, DC? Since the Summer Series has the WTA playing in San Jose and no ATP events the week of July 30 – August 5, this 500 level event is a great opportunity to see top level pros take it to the hard courts in the Mid-Atlantic.
The Citi Open has 48 men playing in the ATP singles main draw, and 32 women playing in the WTA singles main draw.
Citi Open Schedule and Tickets
Citi Open Ticket Options
Best Seats – there is not really a bad seat when it comes to a 7,500 person tennis stadium. That being said, Citi Open has a unique set of seats called "Dream Seats". These seats are located as close to the action as you can get, and are the closest thing tennis has to "courtside" seats like you see in basketball. Following the Dream Seats, the Box Seats are the next best and are tiered by levels Platinum, Premium, Standard, and North Covered Box Seats. Finally, there is the "Reserved" section, which has several tiers but is essentially the Upper Deck.
Citi Open Schedule and Tickets
There are a lot of ways to play it when buying a ticket to the Citi Open. Going earlier in the week means that with the price of your ticket, you can take a break from the stadium and go check out high quality action around the grounds. If you attend in the last few days, the grounds may be quieter, but the best of the bunch will be on court vying for the title in the stadium court.
Tennis Ticket Coupon – $10 off $250+ code TLSPRING
You can buy week-long passes, partial-week passes, or single day tickets. Single Day: Tickets range anywhere from $25 to $120 depending on which tier of seat you'd like and which day you are attending. Partial tickets can be purchased for the entire weekend or for 3 sessions spread throughout the week.
Partial plans start at $140 per seat and go as high as $350 per seat. Week-Long: If you want to go all in on this tournament, the Week-Long passes are a steal. Prices start at $200 for a basic stadium seat, and max out at $750 for a Platinum Box. Remember, if you buy one of these packages, that means you have a seat for every single match at every single session of the entire tournament.
Back to Top Citi Open Tennis
Citi Open Hotel Picks
The nation's capital has a bevy of options when it comes to hotels. Washington DC is a city with a diverse culture. You can stay by the harbor, near historical political buildings and monuments, or in a variety of unique neighborhoods. Or, you may just want to stay as close as possible to the Citi Open! Either way, you will always be entertained in DC!
Woodley Park Guest House – This accommodation is an excellent choice for a number of reasons. It is a charming Bed and Breakfast in a classic brick house. The neighborhood of Woodley Park is lovely, and well located within the city. You can have a quiet stay, yet be about 10 minutes from the tournament and 10 minutes from The White House!
Washington Marriott Wardman Park – Similarly located to Woodley Park Guest House, this is a great option for a comfortable, convenient stay. The hotel is over 100 years old, and boasts acres of beautiful gardens for guests to enjoy. And like the aforementioned, you can get to the Citi Open or into downtown quickly and easily.
Mandarin Oriental – Turn this into a luxury vacation by staying at the Mandarin Oriental! Situated along the Capital's desirable Southwest Waterfront, this is one of DC's most talked about 5-star hotels. Well appointed rooms boasting epic city and waterfront views are just the tip of the iceberg here.
Kimpton Donovan Hotel – This small chain of boutique hotels is a great middle ground between trying something new and playing it safe. However, you surely get all the amenities you would expect at a big name hotel. At the Kimpton Donovan, you are right in the heart of downtown, with endless sites in walking distance. Do not forget to check out the rooftop bar for amazing views and tasty cocktails.
Marriott Marquis Washington DC – This stunning 4-star Marriott property will put you in awe before you even step inside. Housed in a building that is a mixture of sleek modern glass and traditional red brick, this hotel puts you right in the middle of the city. Walk to Chinatown, the National Mall, or the Smithsonian Museums with ease.
Days Inn by Wyndham Washington DC/Connecticut Avenue – This option is a little lighter on the wallet, however, it is a reliable and comfortable chain with a great reputation. Located in the Forest Hills area, you can easily walk to the Metro Station. Another highlight regarding the location is that you are within 3 miles of the Citi Open. That certainly makes it easy to get to the venue for all of your tennis watching!
Back to Top Citi Open Tennis
Venue Information
The Citi Open is played at the William H.G. FitzGerald Tennis Center. This is a public tennis center the rest of the year, and has 15 hard courts and 10 clay courts. The Tennis Center is located within Rock Creek Park, which is a massive park in the Northwestern area of Washington, DC.
The park spans 3 acres and is run by the National Park Service, so if you need a break from the tennis, there is plenty of space to walk around! Within the Tennis Center, there are several outer courts on which to catch a match. Seating is first come first serve for the outer courts. The big show, however, takes place in the stadium court, which seats 7,500 people. For a seat in the stadium, tickets must be purchased in advance.
FitzGerald Tennis Center Seating Map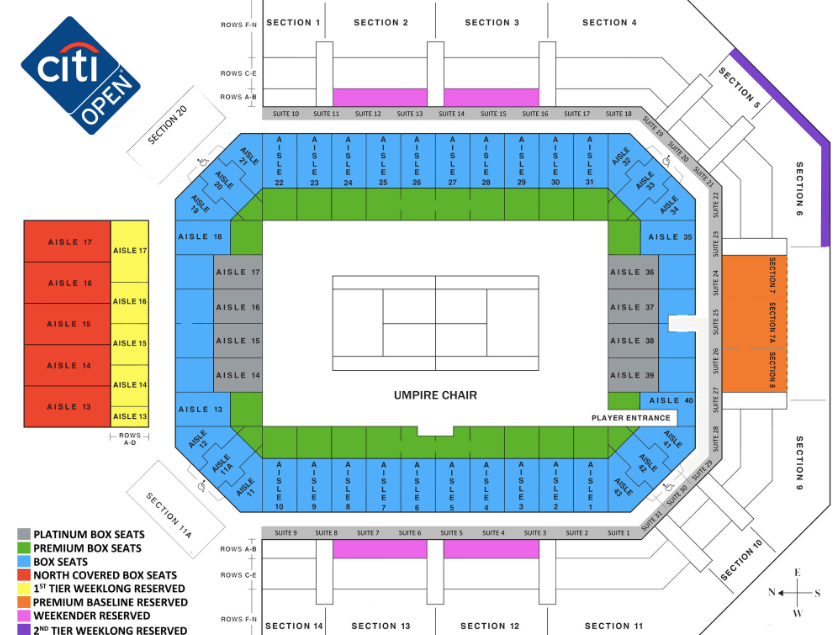 There are several options when it comes to getting to the Citi Open. You can take a cab or ride share, pay to park on site, or park off site and take a free shuttle. The two recommended options are parking off site and taking the shuttle, or getting a ride via the official ride share partner of the tournament: Lyft. If you decide to park and ride, do so at one of these two addresses: Lord & Taylor Lot: 5255 Western Avenue NW, Washington, DC 20015 GEICO Lot: 5260 Western Ave, NW, Washington, DC 20815
Back to Top Citi Open Tennis
Citi Open Transfer & Ground Transport
Back to Top Citi Open Tennis
Citi Open Car Rentals
Back to Top Citi Open Tennis
Citi Open Flight Info
FlightHub is our favorite site to search for cheap flights to anywhere. They have amazing customer service and their search results allow you to narrow down by dozens of options, including airline, # stops, etc, as well as sign up for fare alerts.
Sometimes, waiting a few days or a week may make a huge difference in airfare prices. Check the cheapest flight options at FlightHub.
Cheap Flight Tips:
1) Tuesdays and Wednesdays are generally the cheapest days to fly. Next lowest fares are usually Thursday and Saturday (which usually means you can catch quarter finals on Friday, and head out on Saturday)
2) If you've already searched multiple times on a site for airfare, trying going private or incognito on your browser, which may show newer and lower rates
Back to Top Citi Open Tennis
Popular Activities & Things to Do
Back to Top Citi Open Tennis